We're looking for a new board!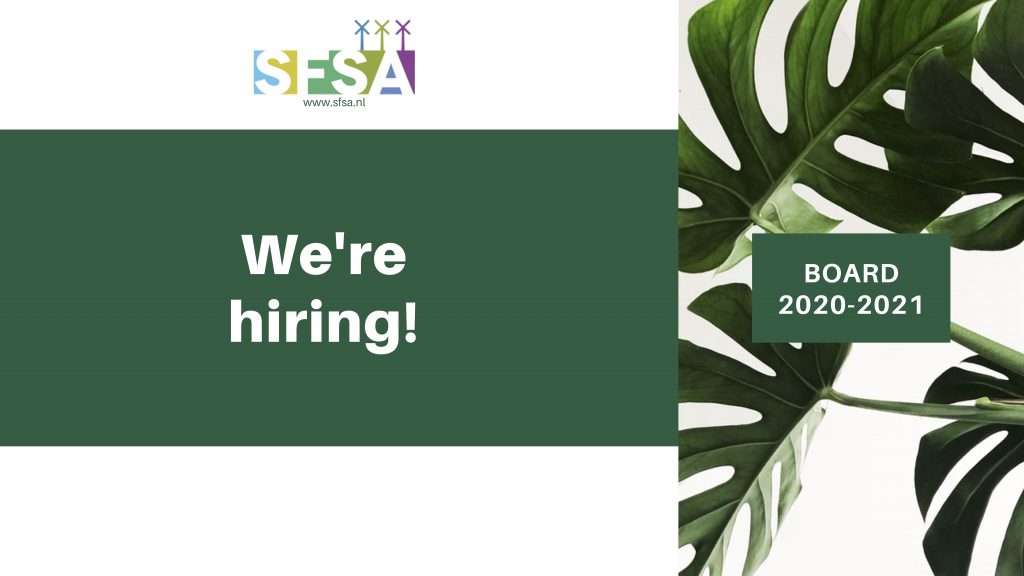 Scroll down to watch a video where we explain what it's like to be in the board! 🙂 
Hello everyone,
Our year of being the SFSA board is almost over, which means we're looking for new people to take our places! Since the first round of hiring, we've already found three amazing people to replace us, but we're still looking for one person to complete the 2020-2021 board.
So, if you're still looking for something green, fun and extracurricular to do for next year, keep reeading 🙂 If you're interested in one of our four positions, or if you want more information, please send an email to secretaris@sfsa.nl.
What does it mean to be in the board?
In summary, the SFSA board is responsible for keeping everything running. This means everything from finances to socials, from the website to the newsletters, and from taking care of official association-policies to organising sustainable events. We have a weekly meeting with the whole board, where we discuss everything important and where we divide a lot of tasks between the four of us (such as the socials, organising events and keeping track of our general email-address). Also, with every committee-meeting, we want a board member present and we divide these meetings equally between us, so nobody has to attend an extra meeting every week.
What do the four separate positions entail?
Chair
The first position is that of the chair. The chair of the board is 'the face' of SFSA. This means that when there's a public statement or small introduction before an event, that's the chair's job. Besides that, the chair is responsible for connections to other organisations such as Green Offices and the Vegan Student Association.
Secretary
The second position is that of the secretary. The secretary is responsible for keeping the website up-to-date, sending and receiving most general emails, making the newsletter and keeping minutes during board meetings.
Treasurer
Thirdly, we have the treasurer. The treasurer is responsible for everything financial. This means making a budget at the beginning of the year and a costs-realisation at the end of the year, keeping track of the SFSA bank account and collecting funds from sponsors.
Member-coordinator
Last, but certainly not least, we have the member-coordinator. This person is responsible for contact with members (for example about memberships) and the general organisation of the committees. As mentioned above, the member-coordinator does not have to deal with all committee-meetings themselves.
Costs/benefits:
During the year, it varies slightly, but on average the positions will cost you 8-10 hours per week. From the UvA, you will receive a small board-members fund (and of course a lot of non-financial benefits such as experience, skills, doing good for the world and meeting a lot of fun new people!).
Boardmembership during Corona
During the last period of our boardmembership, a lot has changed obviously. Normally, we would organise at least one event per month, but during the lockdown, that was not possible. Instead, we focused on our socials more by making short videos, and we've hosted two virtual events. Besides that, we still had our weekly meetings and we were still in contact with a lot of other organisations through Zoom or other platforms. So, in case there will be another lockdown or it will take some time before large meetings are allowed, being in the board will still be a lot of fun!