Dutch Sustainable Fashion Week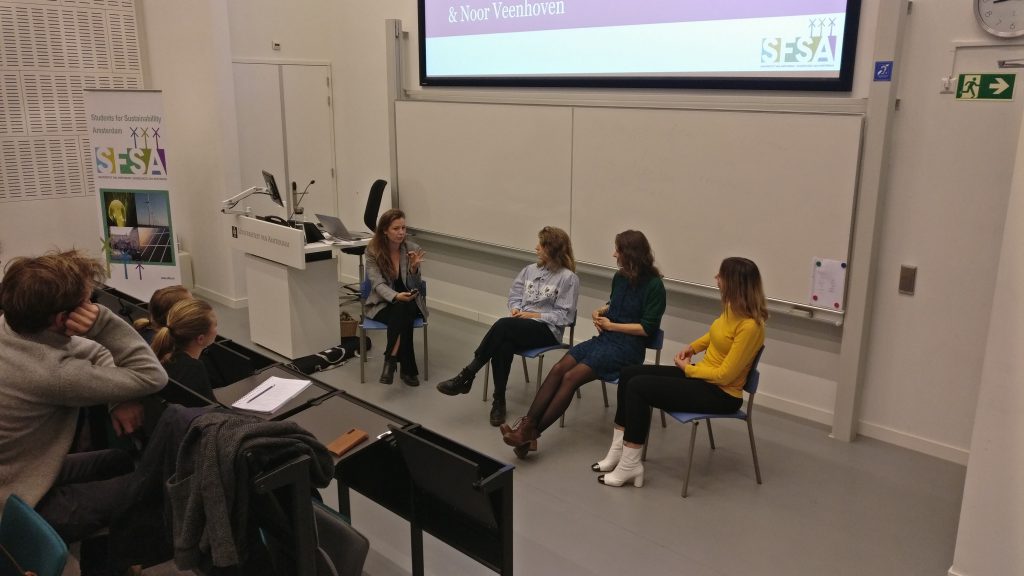 On October 10th 2019 (de Dag van de Duurzaamheid/the Day of Sustainability) we, the 19/20 SFSA board, organized our first event! In cooperation with the Dutch Sustainable Fashion Week, we organized a lecture with three speakers: Nora Veerman, Rachel Cannegieter and Noor Veenhoven.
Nora Veerman was the first speaker. In her lecture, with beautiful old photos, she discussed the history of clothing and the origin of our 'addiction' to fashion. It's hard to imagine that it wasn't possible to sell 'ready to wear' clothing at first: everyone only wore clothing that was specially made for them. According to Nora, we need a new way to reduce the impact of the garment industry: as sustainable brands all develop new fancy fabrics, we maintain our addiction to 'newness'. We'd better take a look at what's already there: huge piles of wasted clothing and lots of (sustainable) knowledge from the past!
After Nora, Rachel Cannegieter spoke. Rachel had a completely different focus in her story: how do we make the clothing industry circular? Her story focused not only on the natural side, for example, the use of recyclable materials, but also on the technical side: how can we use technology in such a way that the entire industry becomes more transparent? In her story, Rachel also mentioned a number of good initiatives, such as renting clothes (e.g. from Spinning Closet or Gibbon) or buying second-hand clothes online (e.g. from The Next Closet).
The last speaker of the evening was Noor Veenhoven. Noor is a co-founder of Project CeCe, which is a webshop where you can see and compare the offers of many different sustainable brands and stores. In her story, Noor explained some tips and tricks to recognise sustainable and socially responsible clothing and what to look out for (the material, the country of origin and the washing instructions). Good tips: pay attention to quality labels (such as the Fair Wear Foundation), do not buy a mix of materials (this is more difficult to recycle) and, of course, look at ProjectCeCe.nl ;).
The evening ended with a panel discussion with the three speakers, in which everyone from the audience could ask questions. All in all, it was a very successful evening! We are secretly a bit proud that our first event went so well and we want to thank the speakers for helping us with that!