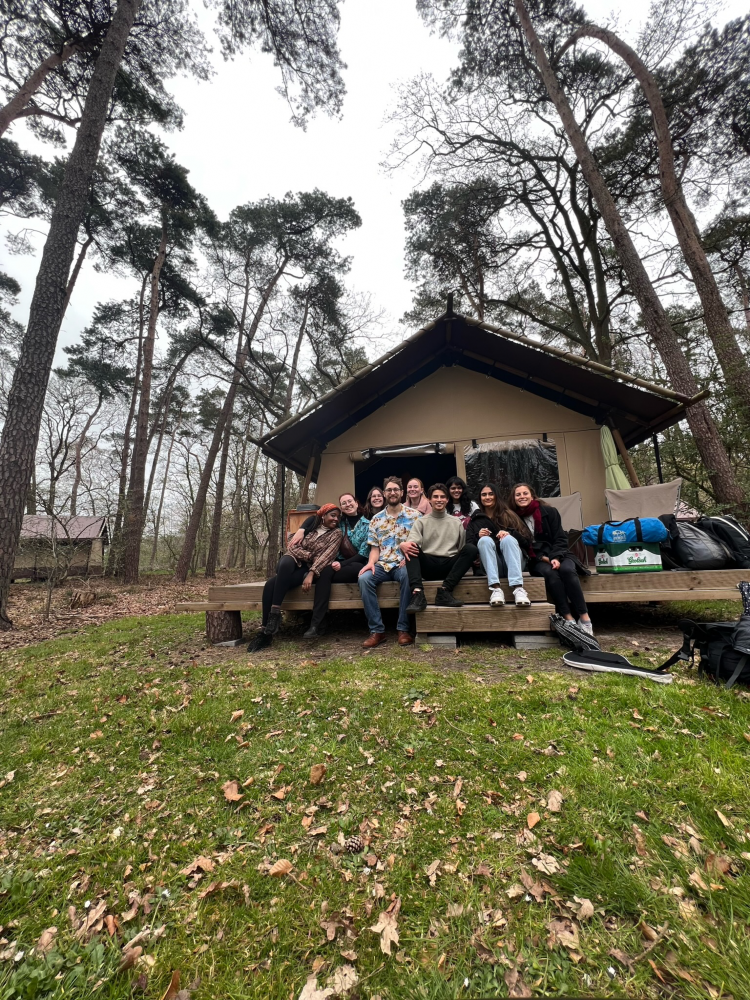 SFSA Camping Trip
During the weekend of 15 – 18 April SFSA created a camping trip experience for the board, committees, members, and fellow friends! We went to Huttopia de Roos in the countryside in the middle of nowhere and had a lovely experience in the forests and super rare hills of the Netherlands. Known as one of the most picturesque places in the Netherlands it was a great opportunity to reconnect with nature and refill our spirits. We rented out glamor tents that felt more like a cabin than a tent. At the beginning of the adventure we had icebreaker events to get to know each other better as this was some members first SFSA event. While here we made stronger emotional connections with each other and learned more about each other at a more personal and deep level. Some of us walked barefoot, while others picked flowers, and others sunbathed under the dutch spring sunshine. It was a time for fraternization as board members and content committees interacted with volunteer members within the organization and strengthened the social bonds within the organization. Lifelong memories were made on the trip as some of us stayed up late at night howling at the moon and dancing to rave music
During the trip we split our group into two different teams and had a vegan cook off! We had a set number of basic ingredients and then had five secret ingredients in which we had to individually choose without discussions with other group members. After a few moments of scratching our heads and trying to understand what we can cook with our random ingredients we made five incredibly delicious dishes. It was impossible to choose a winner so we decided that everyone won as we had a delicious vegan meal as there was minimal climate change impact.
Midday underneath the spring sun after we defrosted ourselves from a cold dutch night we reconnted our mind and soul with some relaxing yoga. Lotte led the session and with her lovely voice we lost ourselves in our stretch and when it ended we all felt more at peace with our wonderful bodies.
Our camping trip occurred during the Easter weekend so it wouldn't be complete without a proper Easter egg hunt. Again we split into two different teams and hid chocolate easter eggs around the campsite for each other to find. During the easter egg hunt we collected trash around the campsite so there was a societal gain from our events.
But just don't take our word for it, below are the experiences of members who took part in the adventure.
I really loved the camping trip! Especially the freedom we had to just do whatever we felt like. It wasn't like every minute of it was scheduled with activities. We rather all decided together what to do. That was super nice.
The SFSA trip was a really nice opportunity to get to know new people and enjoy the dutch nature! I really love this crazy weekend and came back with amazing friends
The Camping Trip Ticket ticket sales has ended!