Happy World Vegan Day!
And what better way to celebrate than with one of our lovely recipes?!
Also, don't forget to sign up for our Meet&Eat the 10th of November to learn more about sustainable food. The first drinks and some snacks are for free!
Today, a typical Dutch stamppot.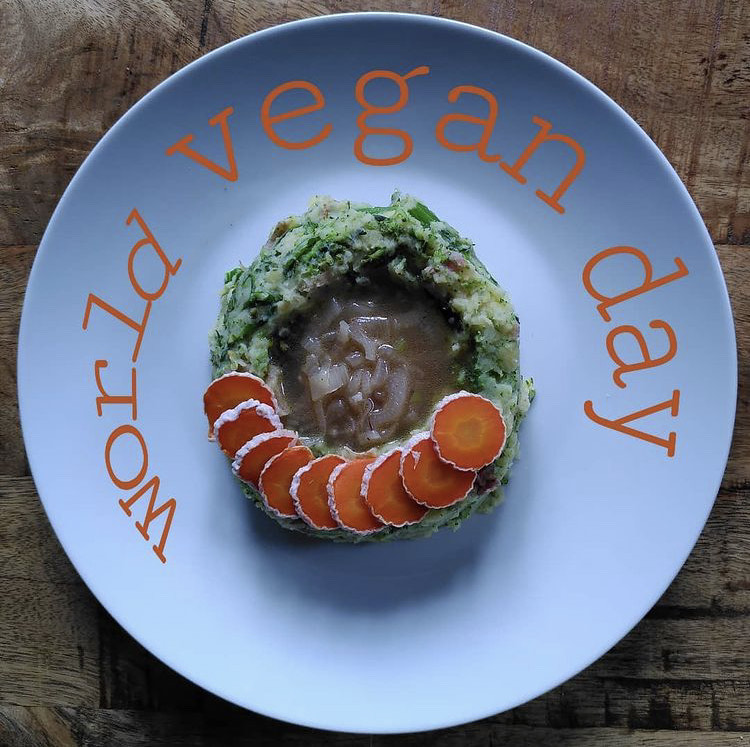 Ingredients (for 2 servings)
1/2 kg potatoes
300 gr. kale
1 glove of garlic
Vegan carrot ham
1 onion
1/2 boullion cube
Vegan milk or cream
(Fresh) Rosemary
(Fresh) Thyme
Nutmeg
Salt
Clean the potatoes and cut the garlic, rosemary and thyme.
Bring the potatoes to cook with the garlic, rosemary and thyme and some salt with the kale on top.
Dice the union.
When potatoes and kale are cooked, let it steam dry in a colander. Safe the cooking water!
Fry the onion, add the cooking water and the boullion cube and let it simmer for a bit.
Mash the potatoes and the kale together with some nutmeg. Add some vegan milk or cream to your liking to make it cremy.
Top it off with some tasty slices of carrot ham from @amsterhammetjes_
Enjoy!